Aurora Software Release February 2018
A new version of Aurora Library Management System Cloud Desktop has been released to all library customers during February 2018.
Highlights of the February 2018 release include:
New Notices via Cloud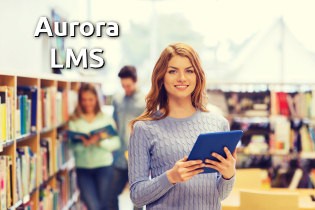 A new screen Notices (cloud) will be displayed in Aurora Desktop for libraries with this feature enabled. The new process allows for overdue and reservation notices to be produced via the Aurora cloud servers for your patrons. Email and SMS are sent directly. Postal notices are produced on the server and can be viewed and downloaded for printing via the new Notices (Cloud) screen. The new screen also provides the ability to archive and un-archive notices as required.
Reports and Statistics 
To compliment the new cloud notices three new key reports have been added to monitor the number of notices going out on a daily basis and the format in which these notices have been delivered. They are 'Reserves - notice counts per day', 'Reserves - notice counts per method per day' and 'Reserves - ratio report' 
A new Key Report 'Delivery route map (from Picking List)' provides a list of homebound users and their addresses in a format that is easily moved into Google Maps. This map can then be shared with a driver or volunteer so that they know where to go and how many items are to be delivered.
Circulation 
A small change has been made to prevent the Save button on the Item Details messages tab going off screen when the resolution of the screen is changed. 
Management 
A new right click option on the Loader screen to tick/untick all titles if the works have the check boxes showing.
Technical Services 
A change has been made to prevent the save of an authority, during the cataloguing process, from dropping the bib record ID. This caused a subsequent save of the already open catalogue record to be inconsistent when saving changes to the holding. 
Cloud Desktop Installer
A Microsoft Trust Certificate has been added to Aurora Desktop, this removes the need for a user to advise Windows 10 the program is OK when a new version is delivered. 
Click here for the complete list of changes released in 2018.
For more information on Aurora refer to the article Aurora LMS or Contact EvolvePlus for more information.
Related Posts
By accepting you will be accessing a service provided by a third-party external to https://evolveplus.com.au/