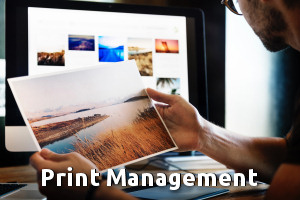 Contact for pricing
BookingsPlus integrates with Papercut Print & Copy Management to provide a fully featured solution that makes print & copy management as easy and pain free as possible. From simple tracking and monitoring of print jobs, to integrating BYOD printing or advanced custom job management, PaperCut can be up and running in minutes. 
Choose between PaperCut NG, and the fully featured PaperCut MF solution depending on your print requirements. (The MF edition supports using MFD embedded software and hardware integration to provide full print, copy, scan and fax control).
The application checks print jobs on the print server and analyzes them, applying rules to enforce your print policies. The application gives you full control over your fleet of devices, letting you: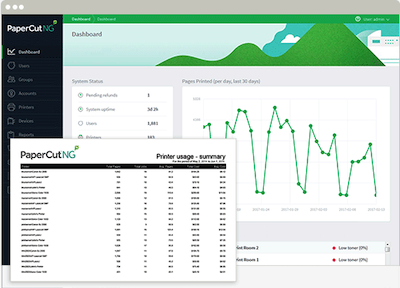 Manage and control printing using tracking, quotas or pay-for-print charging.
Support BYOD and mobile device patrons print from their own device.
Apply rules based print policies to minimize waste and maximize productivity, e.g, to prevent printing of emails, require large jobs to be duplexed or restrict color printing.
Monitor your print fleet, with toner level detection and printer error alerts by email or SMS.
Monitor your print jobs with thumbnail style viewer.
Features for System Administrators
Simple installation
Deploy centrally on your print server and track all printing from Public PCs using the include Client software. You also have the option of having EvolvePlus delivering the Papercut application software from the cloud with just the print management components installed on the local print server.
Integrated to BookingsPlus and Library Management Systems
The application is accessed from the BookingsPlus Web Portal using the "Print Management menu". Patron records from your LMS can be automatically synchronised daily to create/update the Patron's Print Management account.
Solve mobile & BYOD printing
Allow patrons to print from whatever BYOD or mobile device at their disposal. No matter the operating system, their location, the format or the brand of printer we have simple solutions to solve all these. All solutions integrate into the standard print charging/accounting/quota process.
Full logging and reports
Over 50 one-click reports in standard formats (PDF, CSV, HTML).
Print Release Stations
A range of print release options are available include release by staff, Public Print Release Station kiosk or directly on your multi function device.
Top-Up Prepaid Cards
The Top-Up / Prepaid Cards provides a cost effective alternative (or addition) to using Self Service Payment Kiosks. The process works as follows:
The network administrator prints a set of customized cards. Each card lists a value, a "valid until" date, and a unique ID.
When a patron requires additional credit, they purchase a top-up/prepaid card, which could be sold at the over the counter a vending machine.
The patron logs in to the systems web interface and enters the card's number.
The patron's account is automatically credited with the value listed on the card. 
Web Print (BYOD Printing)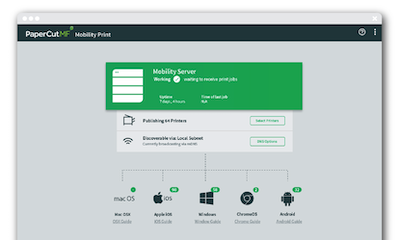 Web Print is the industry leading solution to manage the growing need for printing from BYOD laptops, wireless devices, and anonymous users. Web Print gives patrons easy access to print PDF and image files directly from the browser on their own devices without the overhead of installing printer drivers and managing server authentication. The Web Print application an ideal solution for offering print services via patron and guest owned laptops and netbooks.
Online Payment Gateway
The Payment Gateway Module is an additional component to provide services that allow patrons to transfer funds from an external source into their personal print & copy account. This includes online payment via 3rd party services such as those provided by banks or organisations like PayPal, Authorize.Net, RBS WorldPay and Commonwealth Bank CommWeb.
Embedded within your Multi Function Device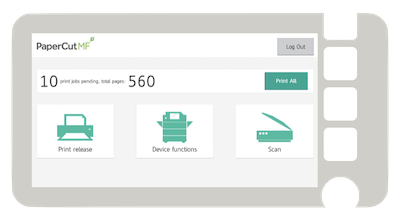 The MF edition can be installed directly on compatible copiers to interact with the patron via the device's touch screen. Patrons must first authenticate at the panel and then device access is granted to copy, scan and  release printed jobs from hold/release queues.
If the MF embedded application is not available for your copier then there is also the option of connecting an external device called a "Copier Terminal" or "Copier Controller" which is connected to the copier to provide patron authentication.
Related Article
Integrated PC Bookings with Print & Copy Management
Contact EvolvePlus for more information on how our integrated Print/Copy/Scan Management, PC Reservations and PC Control solution can work for your library.
EvolvePlus Clients