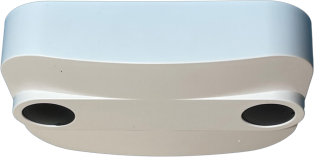 Brochures - People Counters
Video Demonstration
Contact for pricing
The Overhead 3D People Counter provides highly accurate people flow traffic data in any environment, whether that is in retail stores, shopping centres, galleries, libraries, leisure/aquatic centres, office buildings, transport hubs or airports. The stereo vision 3D Sensors capture the covered area in a similar way to the human eye with a counting accuracy of 99%.
Suitable for ceiling heights between 2.2 and 6 metres, the sensor unit installation is simple, cost-effective and efficient. The Overhead 3D People Counter is configured and calibrated ready for Plug-and-Play installation using Power over Ethernet (PoE) for network and power connectivity. Through an open HTTP(S) protocol, footfall data is simply pushed through to the Cloud Dashboard for easy viewing and reporting.
The Overhead 3D People Counter Unit can be installed without the need for an Electrician. Power over Ethernet (PoE) allows for installation without having to connect to power outlets at every endpoint. In situations where Power over Ethernet (PoE) is not viable, alternative installation options include connecting the Overhead 3D People Counter via WiFi or 4G/5G (power outlet required).
The 3D sensors are equipped with Artificial Intelligence (AI) and process data directly on the device - allowing people to be counted in line with data protection guidelines, as well as offering additional analytic features including dwell times, gender distribution, adult/child approximation based on height range and staff exclusion.
General Features
Unmatched accuracy (99%)
Power over ethernet (PoE)
Adaptable WiFi or 4G/5G connectivity
Installation height from 2.2 m to 6.0 m
Integrated Artificial Intelligence (AI)
Adult/Child counting using height range
Privacy controls and data protection
Optional staff exclusion & gender plugins
Cloud delivered dashboard and reports
Package Features
Overhead 3D People Counter Sensors
Overhead 3D People Counter Sensor (Bi-Directional) with AI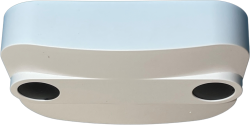 The ceiling mounted 3D sensor captures the scene below using stereo vision. The two wide-angle lenses perceive the scene from different perspectives (left and right images). The sensor calculates this optical disparity for every pixel of the image. This results in a precise depth map or 3D image of the whole scene. It is calculated up to thirty times per second in real time.
The 3D stereo vision technology is highly robust in all kinds of challenging influences, such as shadows, light changes, glares and heat emissions.
The sensor can be installed in ceiling heights between 2.2m and 6m, and incorporates Power over Ethernet (PoE) which combines data connectivity and power supply in one cable. WiFi and 4G/5G modem options are also available.
Up to 99 counting lines and dwell zones can be configured with the easy-to-use web application. For counting large areas and entrances up to nine sensors can be networked together using the multi-sensor wizard.
Additional mounting kits can be purchased including flush mounted housing, surface mounted housing and adjustable angle pivot mounting. An outdoor model is also available with IP65 cabling and cabling.
People Counting Analytics
People Counting Analytics
The Overhead 3D People Counter sensor provides the following analytics:
In/Out counting across multiple count lines and zones (up to 99)
Occupancy
Count zone to only count if a person passed through the entire zone rather than a simple counting line
Dwell time to only count people that stay in the zone indicated or longer than the specified period
Adult/children counting based on height range (separate counts based on min/max heights)
The 3D people can be extended with the following optional plugins, which require specific mounting heights and lighting conditions:
Gender statistics (estimated)
Staff exclusion which excludes staff wearing specific badges from the count
View direction
Face mask detection
Cloud Delivered EvolvePlus Dashboard
Cloud Delivered EvolvePlus Dashboard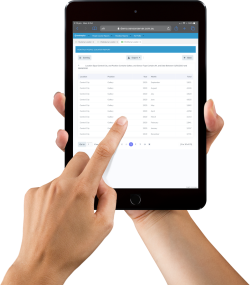 The cloud delivered EvolvePlus Dashboard allows users to analyse data in both Chart and Report formats by hour, day, week, month.
This valuable information reveals peak traffic periods to determine optimal operating hours and staffing requirements, as well as assisting with calculating peak visitor times and sales conversion ratios. It is optimised to handle multiple locations and scalable so that additional sensors can be added at any time.
Also available is the Occupancy / People Inside web app which calculates the current occupancy and displays the total number of people in the venue at any one time. The live count total (with a prominent large occupancy number) is displayed on a range of output displays including large monitors and tablets.

Make Inquiry
Related Articles
EvolvePlus Clients