EvolvePlus Blog
Latest news and updates from EvolvePlus
PC Bookings Settings for Social Distancing
There are several settings available within BookingsPlus to assist libraries to maintain social distancing for Patrons using Internet PC Bookings and Print Management.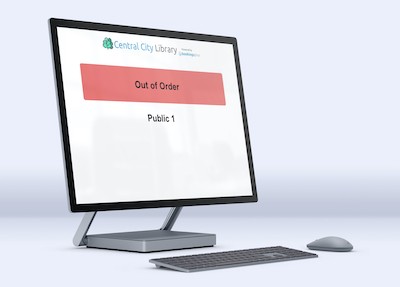 These include:
Use the Out of Order feature to disable PC reservations and usage on specific PCs (e.g. every 2nd PC) to ensure Patrons  on every 2nd PC to ensure social distancing is maintained between each PC. 
Use the Group Bookings feature to schedule regular cleaning of PCs, or for early branch closures. (You may need to create a special booking type to enable longer "group booking" times.
Configure Email to Print, Mobile and BYOD Printing for libraries that are using Papercut print management with BookingsPlus. 
Update your Conditions of Use Policy - you can simply provide the updated text to EvolvePlus Support and we can load this into your settings for you.
As an additional measure you can also choose to implement our Occupancy People Counters which calculates and displays the total number of people in the library at any one time, using Wireless People Counters at either single or multiple entrance/exit points.
Contact EvolvePlus for assistance with any of the above BookingsPlus features, or visit the BookingsPlus website to learn more about our PC Bookings and Print Management solution for libraries.