EvolvePlus Blog
Latest news and updates from EvolvePlus
New Features for Occupancy App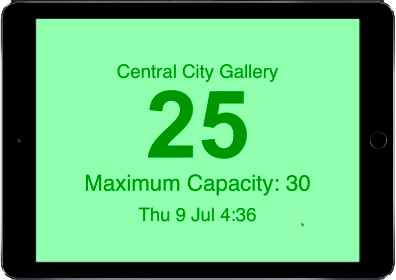 We've recently enhanced our Occupancy application for the EvolvePlus Wireless Counters to provide an additional visual alert when displaying a live count of the number of people currently inside your building, which helps comply with COVID-19 social distancing regulations.
The Occupancy app has a new setting to provide a visual warning of when the occupancy is nearing the maximum occupancy threshold. The colours used in the display of the live count display are:
Green: when the current number of people inside is below the maximum or warning threshold
Orange: when the current occupancy is getting close to the maximum threshold
Red (with additional message & sound alert): when the current occupancy has reached the maximum threshold
The live count total is displayed on a responsive designed web page compatible with TV screens, desktops, tablets and smartphones that can be mounted at the entrance or accessed remotely by staff. The live count total constantly updates higher or lower depending on the number of people entering or leaving the various entrances.
For more information you can read the articles on our Occupancy People Counters with the choice of Battery Powered Infrared Wireless Sensors, Overhead Thermal Wireless Sensors or the Connected Occupancy Clicker app, or Contact EvolvePlus for more information.