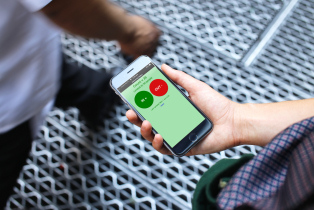 Brochures - People Counters
Video Demonstration
Contact for pricing
Comply with occupancy limits
With Governments imposing social distancing regulations to flatten the curve of COVID-19 businesses are now required to control the number of visitors entering their venue, facility or shop. Many have responded by assigning physical personnel to control the customer traffic at their entrances/exits.
Monitor current occupancy levels
The Connected Occupancy Clicker is a web app that is designed for use by security guards, attendants, greeters, concierge to manually count customers entering or exiting one or more entry/exit points. The recorded count data is automatically synchronized across multiple devices and provides a live occupancy count which can be displayed on TV screens, desktops, tablets and smartphones.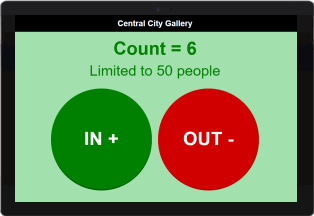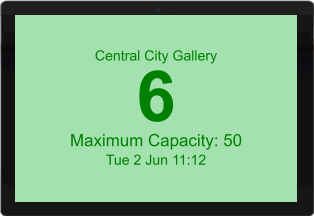 Get notified
When the occupancy limit is reached, a visual alert appears on both the Connected Occupancy Clicker and the associated screen display. You can also elect for an SMS or email notification to be sent to your staff so that they can take timely action to control the number of people in your premises.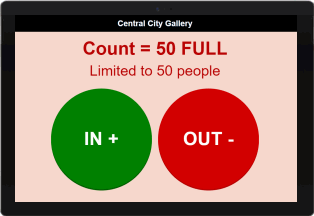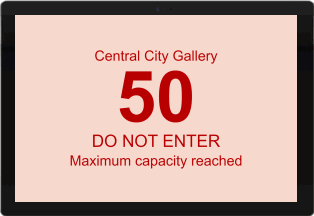 Hybrid solution
The Connected Occupancy Clicker and the automated
Wireless People Counters
can be used together at the same time across multiple locations. Counts collected from multiple connected sources can be viewed on a single screen display or segmented to give a live occupancy count in separate areas, spaces or rooms within a building.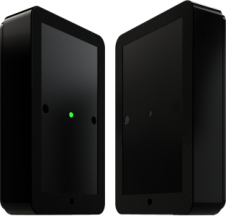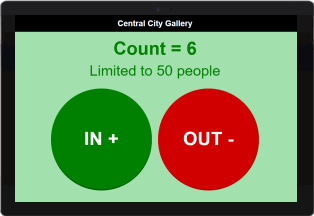 Flexible to changing restrictions
An advantage the Connected Occupancy Clicker has over other systems is the ability to change occupancy thresholds as required. As Federal, State and Territory Governments ease restrictions over time, the maximum capacity setting can be updated at any time with the new threshold limit reflected instantly on all connected devices and screen displays.
Privacy
Our people counting solutions will ensure the privacy of your customers by not identifying individuals or storing personal and sensitive information about them. The count data is stored on private and secure Australian servers located in Sydney, Australia.
General Features
Cloud hosted in Australia
Software developed in Australia
Count one or more locations at the same time
Can be used in conjunction with automated solutions.
Hardware designed and developed in the EU
EvolvePlus Clients