EvolvePlus Blog
Latest news and updates from EvolvePlus
BookingsPlus Fee Calculation Enhancement
We've recently introduced an enhancement within the BookingsPlus Resource Bookings module to set different rates when booking a facility.
For example: when booking a community facility a Council may charge a standard rate for commercial & standard customers/patrons and a different community rate for community groups and not-for-profit organisations.
In the latest version of BookingsPlus version 18, you can configure this for each resource or facility within the "Content Management" administration module.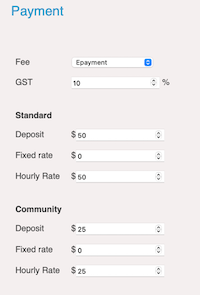 In addition, you can assign whether a client/organisation is assigned as a standard or community group when automatically calculating fees via the web portal.
For more information on the cloud-delivered BookingsPlus PC Management & Resource Bookings solution, you can visit the dedicated BookingsPlus website at bookingsplus.com.au or for information on analysing the number of people entering a room or facility using wireless people counters visit the EvolvePlus website at www.evolveplus.com.au.