EvolvePlus Blog
Latest news and updates from EvolvePlus
SurveyPlus Community Survey Web App
EvolvePlus is proud to announce the launch of SurveyPlus - a fully managed community survey web app that automates online surveys & questionnaires for your community, library members, visitors, ratepayers, staff, job applicants and more.
Importantly, SurveyPlus is delivered via our Australian cloud infrastructure, to ensure the privacy and security of your community's survey results and assist with compliance to your statutory obligations.
Some examples of how SurveyPlus can be used:
Library satisfaction surveys
Community budget priorities and sentiment surveys
Community satisfaction surveys
HR job applicant pre-qualification questionnaires
Psychological tests
Needs assessment surveys
Training assessment reviews
plus much more!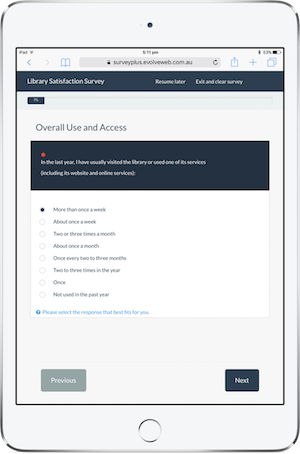 Some of the key features SurveyPlus include:
Simple single choice questions as well as sophisticated multiple choice and file uploads
Survey answer logic using conditions and branching - i.e. shows questions based on response to previous questions
Comprehensive statistical analysis and detailed reports
Multi-format exports
Easy HTML-editing of your content
Anonymous participants
Creation of both public and private surveys
Custom templates and branding
Unlimited user accounts
Unlimited surveys (within storage limits)
Privacy compliance with application hosted from our Australian cloud infrastructure
Contact Us to find out more how EvolvePlus can help you design individual surveys and online questionnaires using the SurveyPlus community survey web app.