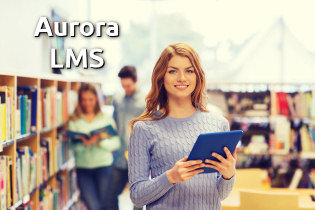 Contact for pricing
Developed in Australia, Aurora LMS goes beyond the traditional library management system to deliver an extensive range of features that improves productivity in your library including suggestion management, inter-library loans, floating collections and patron newsletters. With Aurora you become faster, more effective and more efficient at managing your library information.
Aurora provides fantastic patron engagement with a dynamic public access delivering a Google style single search field using predictive text together with faceted filtering on the search results. The impressive functionality ensures your library becomes the centre of how patrons find, manage, discuss, and engage with media content of all kinds in an increasingly electronic age with inbuilt social media integration to Facebook, Pinterest, Twitter and Google +.
Built on a Microsoft .NET and Web Services architecture, Aurora provides deep integration with eBooks, external databases, image collections, self check kiosks and other local services. Integration to PayPal and SecurePay enables Patrons to pay their fees from within the secure self service portal.
Whether your library service is based on a single site, has widely distributed branches, or is part of a consortium, Aurora provides unified library management resulting in improved public access, flexible and intelligent stock management, email & SMS notices, and greater administrative control.
Aurora can form part of a total information management solution for libraries incorporating library automation, wireless people counters, DashboardPlus dashboards & statistical analysis, BookingsPlus PC, room & event bookings, Sensify community engagement, Million Word Reading Challenge, RefPlus reference & request tracking and SurveyPlus community surveys.
Top Features
Top Aurora Productivity Features for Library Staff
Microsoft Office ribbon bar styling for quick access to key staff functions
The Aurora Multimedia batch tool enables automatic creation of MARC records from existing images, pdf documents, sound recordings and other digital files. (Great for local history digital files and displaying on the web)
Home Library Service and automated allocation based on patron profile
Cataloguing Assist removes the guesswork with coding bibliographic records. 
Suggestion module – assists in moving member suggestions to ILL or acquisitions as required
Robust Offline module with automatic upload to the server when the connection is re-established.
Automatic Emails & SMS to Patrons for overdue, notifications and newsletters
Floating collections
Load order information with shelf ready MARC records
Top Aurora Features for Members
Single search across library collection, eBooks, external databases, image collections and local history
Stream music, video, and voice from the in-built media player
Social media sharing
Superior integration with third party providers
Moderated reviews and comments
Responsive web design for desktops, tablets, and mobile
Ebsco discovery Service integration – search Ebsco and other databases through the Montage interface.
Easy joining process to sign up for membership from home and only require library validation to loan on their first visit.
Accept payment of fees via PayPal and secure-pay
Direct download of eBooks & Overdrive eResources
Cloud Desktop and Concierge Web Client
Cloud Desktop
Aurora Cloud Desktop provides a single consolidated environment for all staff functions including circulation, cataloguing, acquisitions, serials, homebound, management and offline.
While offering the established, highly functional facilities our customers have previously enjoyed, Aurora continues to innovate and incorporate additional exciting features. Aurora Cloud Desktop provides new and improved features for all types of libraries.
Whether your library service is based on a single site, has widely distributed branches, or is part of a consortium, Aurora Cloud Desktop facilitates unified library management and the additional benefits that result; improved public access, flexible and intelligent stock management, email & SMS notices, and greater administrative control.
Aurora Cloud Desktop is designed with a familiar Microsoft Office style interface, presenting a comfortable and familiar look and feel. Aurora Cloud Desktop uses standard Windows shortcuts, and interfaces seamlessly with MS Office programs. It's intuitive design allow usage with minimal training and so ideally suited for casual staff use.
Desktop offers both simple and advanced searching across all modules together with an extensive range of filters. Desktop can search the entire bibliographic record, apply spell check, list new items, identify sequels & prequels, and search using Boolean text-retrieval.
As a cloud delivered application the Aurora Cloud Desktop updates are installed automatically - no need to spend time manually updating each of your PCs. Importantly, during library network failures the Aurora Cloud Desktop offline transaction recording capability enables the continuation of loans and returns.
Concierge - New Web Client for Aurora
Concierge is our new Web client first released in 2017, starting with the browser based circulation module. The previous investment in redeveloping Aurora with a Web Services .NET architecture has enabled the development a new Web Client without having to redevelop the business logic in a separate web environment.
Aurora Concierge offers an elegant, responsive and intuitive experience that will become the benchmark for browser based applications., Concierge will become the new standard in LMS staff applications. Simplicity is the key, and its fresh design compliments Aurora Montage (Web Opac).
Aurora Montage - Web OPAC & Discovery Platform
Aurora Montage - Web OPAC & Discovery Platform
Aurora Montage provides the ability to search across the entire library collection and return the results in groups of their respective formats. 
A familiar "Google Style" search interface with predictive text provides an intuitive search experience that engages the library members. From a single search, members can discover matching records across all collections with search results sorted by relevancy ranking flexible faceted refinements to enable the user to filter the types of works displayed. 
Integrating eBooks, external databases, image collections, oral histories, and other non-traditional collections with the main collection, yet keeping them separated for easy browsing, this is how montage produces a natural and intuitive user experience. With one search the user becomes aware if there are books, maps, toys and more in the library collection that relate to the search term/s used.
Whether it is a desktop, tablet or mobile, the responsive web design delivers a fresh, crisp experience for members to easily search and discover a range of library resources from a single web portal. Able to display photographs and other images in a gallery view, Montage allows the library to create online exhibitions. 
Members can also stream music, video, and voice directly from Montage via the in-built media player. Social media and sharing is included with a simple process for moderation which allows authenticated users to add reviews or comments. The member's section allows a user to manage their account in real time and pay fees using the secure payment gateway. Montage enables members to log in with their library barcode or using an alias that is easier to remember.
Full integration with the Ebsco Discovery Service integration allows logged in members to browse and download Ebsco resources directly from Montage without being prompted with separate login credentials. Montage features comprehensive integration with a range of eBook suppliers, with integration with some vendors enabling direct download of the eBook resource without visiting the vendor's website. Some of the eBook vendors that Aurora has been integrated with include:
Alexander Street
Axis 360
Bolinda
CSIRO
EBL
Odilo
Overdrive
PeterPal
RBDigital
Warner
Wheelers
Zinio Magazines 
Circulation
Circulation
Aurora Cloud Desktop supports all processes of circulation including loan, return, and renewal. Current loans are controlled by a flexible set of parameters, which determine limitless combinations of user type, material type, location, and loan category. In addition, all loan parameters are date stamped allowing tracking and reporting of all loan combinations.
Through the SIP2 protocol, Aurora Cloud Desktop has everything needed to run an RFID system, from self-check terminals to complex automated sorting machines.
A user summary is constantly displayed in all user functions. This is updated dynamically as transactions such as loans and returns are registered by the system, allowing the front desk operator to keep a clear eye on the situation as the borrower is serviced. The summary can be opened as required to see more detailed information.
'Quick find' provides fast access to both user and bibliographic data on the fly, allowing simple searching to be performed within the loan and return screens.
Return features include the ability to back-date returns if required, optional messages to alert staff and a special book-drop return facility, which suppresses standard messages only reporting those which have been selected by the library. Floating collections are also supported, allowing items to be retained at the branch of return, regardless of its original home.
Aurora Cloud Desktop also includes a revolutionary new support system called 'Tasks by workflow'. This system provides a comprehensive list of tasks encountered by staff at the circulation or reference desks on a daily basis. 
With one click on a task in this list the operator will be taken to the screen that supports the function required. The tasks are constructed in simple sentences to aid in learning, 'I have an item, and I want to – return it.'These tasks cover both items and users and provide a superior training tool for new or casual staff.
Aurora Circulation Features:
Members/Users
Support for individual and corporate user types, e.g. suppliers, libraries etc.
Ability to relate users and manage relationships – family cards
Ability to search entire user record
Dynamic viewing of user status
Ability to control user security by password or PIN
User communication features, including follow-up action
Subscription management function, e.g. for Deposit borrowers
Items
Management of stock at finest detail
Immediate and dynamic item status control
Facilities for managing the handling of Lost or Damaged items, including charging replacement and
administration costs
Easy movement of stock between locations – temporary or permanent
Simple means to delete items and bibliographic records
Option to bulk change format details
Comprehensive parameter control of locations, users, material types and their coincidence
Loan limits may be set system wide and/or for specific material types
Fines and charges are fully GST compliant and option to print tax invoice and daily consolidation available
Provision for Claimed Returned items
Ability to prioritise, defer, automatically cancel, and define scope for reservations
Ability to link reservations with first item satisfaction
All transaction histories are available for immediate query
Offline
Automatic detection of network failure and prompt for Offline operation
Reserved materials and debarred user details automatically downloaded to each workstation at start of daily running
Direct recording of loan and return transactions while offline
Reports
Reservation reports allows identification and management of items reserved via WebOPAC
Expired reserves report allows management of items not collected by users
Item Lists identify items not at their correct home location
Home Library Service
Home Library Service
Aurora is well established in libraries for the blind (Australia, New Zealand and South Africa) and has taken key elements from the mediated approaches used there in developing a comprehensive approach for public library Homebound services.
For each user a range of options can be set to determine:
Format preferences (e.g. DAISY book or Audio book only)
Content preferences (e.g. no sexual content, no violence)
Maximum number of items to be loaned at one time (on an individual basis)
Aurora supports three different methods of allocation for the homebound user:
By Request – where the user nominates titles of interest
By Profile – where the user selects subjects/genres or authors of interest
By Reservation - using normal reservation methods
The user can be set to be serviced automatically or manually, and batch allocation processes can be run to identify material available for loan. Users with less than their prescribed allocation limit will have items generated on a pick list for them.
Aurora has a special 'Allocated loan' transaction which allows simple wanding of the item barcode to complete the loan and produce an address slip for the user if required.
Aurora records all borrowing history which helps prevent items being allocated when the user has previously borrowed them (unless this is specifically required). Aurora also provides a contact management function 'User calls', which can record all communications between the library and the user, e.g. to note absences, but also to record changes in preferences or variations to allocation limits.
Cataloguing
Cataloguing
Based on internationally accepted standards, Aurora Cataloguing offers powerful editing functions, flexibility in handling MARC formats, including full support and interpretation of coded data elements, with no constraints on field size or record length, and the ability to incorporate multimedia and Internet resources.
Bibliographic cataloguing allows records to be created from library defined templates, or simply imported from a secondary source, whether Z39.50 or from a book supplier.
Records may be retrieved by ISBN, defined control numbers or through searching the catalogue. 
Aurora Cloud Desktop also provides full facilities for importing and exporting records. Bibliographic records can be imported from suppliers as part of shelf-ready stock delivery. Exports can also be made to maintain NBD holdings accuracy (both additions and deletions), or to update resources such as Picture Australia, using Dublin Core.
Aurora Cataloguing features:
A flexible interface that allows the library to customise all screen text
Multilingual support
User defined work forms
Full support of MARC21, Dublin core and Z39.50
Ability to see the status of an item within the holdings display
Authorities can be captured or reviewed while cataloguing bibliographic works
Multiple authorities may be supported (e.g. LCSH and MeSH)
Interactive validation of URLs with instant error reporting on record save
All tags, indicators, and subfields are available for review or selection at a single click
Ability to mark items or operator output for review
Multimedia objects are visible in the cataloguing display
Serials
Serials
The Aurora Serials module is designed for the easy management of serial subscriptions, including automated subscription renewal, issue predictions using frequency and pattern for the publication, and well as seamless integration with Cataloguing and Acquisition modules. 
The Serials control panel provides a range of filters to view subscriptions requiring actionl including subscriptions this financial year, future subscriptions, expired less than 12 months, all subscriptions as well as serials without a current subscription.
Ultimately, the Aurora Serials module provides a very fast mechanism for receiving new issues by the library staff.
Aurora Serials features:
Easy generation of supplier and subscription details.
Automatic generation of expected issues. 
Variety of publication periods available from daily newspapers to annual publications.
Pre-allocation of due dates and/or issue numbering for each issue.
Subscription schedules can be maintained or added to for irregular and ad hoc events.
Subscriptions can be regenerated at any time during the subscription period. 
Multiple copies of each issue can be included on one subscription. 
Handles supplements
Inter Library Loans
Inter Library Loans
The Aurora InterLibrary Loan function supports various strategies to transmit requests to potential libraries,, and manage their loan and eventual return. The ILL process is integrated with circulation, which enables the loan to members to operate as if the ILL items where local stock.
Inter Library Loan features:
Requests by members can be submitted via OPAC (Suggestion) or the Aurora Cloud Desktop
Create an ILL request from suggestion
Flag ILL requests as approved
Search for a library that holds the item
Set date items is due back to supplying (original) library
Set items alerts when item returned by member
Acquisitions
Acquisitions
Aurora Cloud Desktop provides a comprehensive and integrated framework for the management of all orders and fund processes within an organisation. Aurora Acquisitions works closely with Aurora Cataloguer to record bibliographic and order data. Acquisitions as a module covers both book purchase administration and serials control.
Orders can be placed quickly with the integrated search function that eliminates the need to jump between screens. Current holdings are also displayed in this screen to prevent double ordering. The ability to list items by 'works recently added' allows an operator to enter multiple bibliographic records and then retrieve them for ordering at a later date.
An order may be accessed through several different screens and displayed via order number, fund, or supplier as above. Filters may be applied to select orders that have acquired a certain status; cancelled, completed, etc.
Print, email and EDI communications are supported. Item details conform to the MARC Holdings standard, allowing the library to pre-determine elements as required, such as barcodes, call numbers and library locations.
Aurora recognises the importance of the integrity of data when dealing with acquisitions and funds. We provide audit controls to underwrite the orders process and all audit data is held in secure read-only files which allow incremental addition of data and prevent overwriting of information.
OPAC users may optionally be allowed to suggest titles to be bought for the library, and Desktop includes a full Suggestions management capability. Staff can confirm Suggestions as orders, inter-library loan requests or reject them if outside of library policy. The library can communicate with the user throughout the process via email.
Aurora Acquisitions features:
Support for hierarchical fund definition
Security controls on access to fund usage and reporting
Ability to interface with local FMIS (Financial Management Information System)
All fund amendments recorded in a secure fund audit file
Integration of supplier detail and fund information into order creation
Ability to support both individual and multi-line purchase orders
Special controls for free and donated material
Facility to view orders and invoices per supplier
Incorporation of a dedicated currency conversion calculator
Item suggestion incorporated into the ordering process
Seamless transfer of form-based suggestion to MARC bibliographic record
Reports & Statistics
Reports & Statistics
Aurora is developed on a SQL database framework, and so lends itself naturally to great flexibility in reporting. 
Aurora provides a number of predefined reports as an initial basis, with options to tailor reporting for each library. Reports can be scheduled and can focus on specific statistics, or be included in a set of linked reports, such as the annual State Library return.
Reports can include drill-down capability, to multiple levels, and can include run-time settings, e.g. to select statistics for a specific user type, item format or location.
Aurora Cloud Desktop incorporates many live statistical reports such as quarterly and monthly loan and renewal statistics. These 'on the fly' reports can be exported to Microsoft Excel.
Aurora Cloud Desktop also includes the ability to generate both overdue and reservations notices. These may be delivered by SMS, email or printed for mail. SMS notice delivery can be run as a Windows service allowing constant monitoring and dispatch without operator intervention. An optional extra – Aurora Post – allows the library to send newsletters or other notifications to users, either comprehensively or to specific groups.
Aurora Post features:
The optional Aurora Post module allows the library to create beautiful broadcast email newsletters and SMS. This product is fully integrated with Aurora Cloud Desktop where an operator may create a mailing list from the library users. The list can be broad, (all users with an email address) or specialised, (users with an email address that are over 18, have been active in the last 6 months and have loaned a Kathy Reichs work). 
The ability to create HTML newsletters that target specific library user groups is a powerful and useful marketing tool.
DashboardPlus features:
Our optional Report and Dashboard builder lets you visualise, track and measure real time your LMS data. Not only do these dashboards & reports look great, they provide a familiar way for staff to access and interpret library data. Importantly the dashboards are optimised to run on any device and can be embedded with other intranet web pages. 
Use DashboardPlus to easily create stylish web based dashboards with reports, charts and statistics with real-time booking information directly to your web browser running on your PC, Mac or tablet (e.g. iPad).
We can also combine data from different sources, such as Sensify, Aurora, EvolvePlus People Counters, third party databases, etc. and present as a single integrated Dashboard, together with the ability to export reports to Excel, HTML and PDF.
EvolvePlus Clients